Digital Mortgages by Atom Bank
Product
Gross Fee paid by lender
Net fee paid to regulated broker 
Net Fee paid to non-regulated & client referral service
Buy to Let
1.25%
0.625%
0.31%
Digital Mortgages by Atom bank
Digital Mortgages is the commercial lending offering from Atom bank.
Working with specialist business intermediaries, Digital Mortgages by Atom bank offers secured lending to SME businesses – at its simplest, debt, secured by an asset. The proposition drives efficiency with simplified processes, policy and pricing, and provides complete transparency when it comes to decisioning.
Atom bank
One of the UK's leading digital challenger banks, Atom's branchless banking model launched in 2015. 2020 will see this innovation continue, with a faster and more agile Atom, continuing its impressive growth. As the #1 rated UK bank on Trustpilot, Atom is well on its way to creating the most customer-centric bank on the planet.
Atom is well on its way to creating the most customer-centric bank on the planet.
The range
Commercial investment, commercial owner occupied, semi-commercial and residential investment property.
Borrower types
Limited companies, Limited Liability Partnerships (LLPs), partnerships and sole traders.
Property types
Commercial offices; warehouses; factories; industrial units; agricultural; retail units; purpose-built student accommodation; residential and commercial investment properties; restaurants, hotels.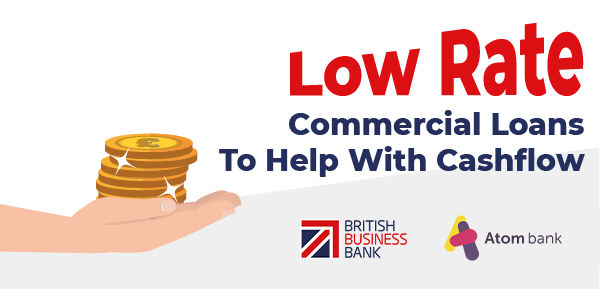 IF YOU HAVE BUSINESS CLIENTS THAT WOULD LIKE LOW RATE COMMERCIAL LOANS TO HELP WITH CASHFLOW, TO REPAY EXISTING DEBT ON HIGHER RATES OR TO BE USED FOR INVESTMENT THEN PLEASE READ ON.
Atom Bank are championing the UK SME's by offering the Coronavirus Business Interruption Loan Scheme (CBILS) to help them access finance at very competitive rates. As an accredited CBILS lender by the British Business Bank, the scheme enables Atom Bank to provide facilities from £100,000 up to £5m to SME's that have been affected by COVID-19.
WHO IS ELIGIBLE FOR A CBILS?
Any UK-based business with activities in this country which generates over 50% of turnover from trading activity
Be an SME with an annual turnover less than £45m
Where there's a need to refinance existing debt, help with cashflow or business investment
A business who can provide suitable security for a secured loan
Not have been in any business difficulty on 31 December 2019
Interest Rate: Between 2.71% to 3.34%

Loan size: £100k to £5m

No Valuation or legal fees (this only becomes payable by the client if the loan does not complete under CBILS)

Term: Up to 6 years commitment term

Repayment type: Interest only or capital & interest amortized over 25 years

LTV: Up to 75%

Security: First legal charge over suitable security (land, property). Personal guarantees may be requested for loans greater than £250k.

Loan Purpose: The loan can be used for business investment, to refinance existing debt with another lender, and for cash flow purposes.
Complete are supported by Sam Lea as BDM and Anna Pullen as the
in-house underwriter